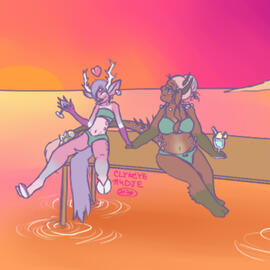 ClyncyeRudje
---
About
Digital artist specializing in character design.
This caard is primarily a quick reference for commission info as well as a link to places I post art or ways to support me.
All prices listed are purely starting prices per figure and are not accurate for commercial work.
Estimated turnaround is 2 weeks to account for health problems. I do not take active commission work between mid-November and early February, though I do have a waitlist during that time.
I reserve the right to refuse any commission.
Unless negotiated beforehand, commissions are purely for personal use and are not to be edited, used for profit, or posted elsewhere without permission.
NSFW pricing includes all fetish work and gore as well as more vanilla explicit art and nudity.
Lineart Bust - 40+ USD (SFW), 55+ USD (NSFW)

Lineart Fullbody - 70+ USD (SFW), 100+ USD (NSFW)

Lineart Simple - 35+ USD (NSFW), 50+ USD (NSFW)

Color Bust - 57+ USD (SFW), 73+ USD (NSFW)

Color Fullbody - 95+ USD (SFW), 135+ USD (NSFW)

Color Simple - 45+ USD (SFW), 58+ USD (NSFW)

Pixel Art - 45+ USD (SFW), 58+ USD (NSFW)

Character Design - 80+ USD (SFW), 150+ USD (NSFW)